2. Not Resorting To Your Own Learning Style
People are different and have different learning styles. No learning style can suit all students. Some students learn better from audio or lecture, while others are good visual learners. Others learn better when they are in a social environment than when they are alone. If you are among the many students that learn better in a social environment, you might have challenges when attending your classes remotely. You should find your own ways of learning. One of the things that you can do is to participate in online class discussions. If you learn better in a social environment, you should organize for in-person group discussions at a coffee house or any other place with your online classmates that come from the neighboring areas every time that you are about to do a big exam.
3. Unreliable Wi-Fi
Many online students take internet speed for granted. Before you start your online classes, you should make sure that your internet connection is stable. If you are using public WiFi, you should consider having a backup plan ready just in case of anything. To avoid disconnections in the middle of your sessions, you should make sure that you are paying all your bills on time. You should also find a place such as a coffee house, local library, or any other establishment where you can go when your home internet cuts out. 
4. A Bad Study Environment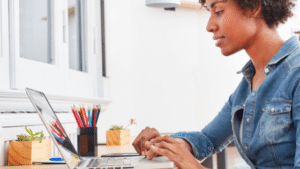 Before starting your online classes, you need to first prepare your study place. There are so many things that can distract you when learning from the comfort of your home. You should pick a room that is quiet and has an internet connection. 
If possible, you should try not to study in your bedroom. When studying from your bedroom, you might start cleaning the room or have a nap when the session is ongoing. Leaving the TV on, listening to music, and frequently checking social media can also distract you.
Not setting up your study environment well increases the number of distractions that you will have to deal with when studying. These distractions will impede the completion of your assignments, which will have a detrimental effect on your final grade. If you are having problems setting up your study area, check out our tips for setting up a study area for online students.