8. Using Internet Slang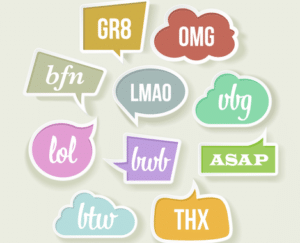 Many online students like using abbreviations, shortening words, and using emojis when engaging online. It is okay to use all that when posting in forums, texting, and interacting on social media, but not in your assignments and exams. Online courses have a formal setting, and they deserve a formal communication. Using internet slang on your assignments and exams can offend some of your instructors. It is much better if you avoid them and strive to maintain an organized style of writing.
9. Failing To Speak Up When Struggling
Because online students are unable to see their instructors in person, many of them forget to reach out to them to get help. It is much easier to burry your academic struggles when you don't have a chance to meet your professors face to face. What you might not be knowing is that part of your online instructor's job is being available for students. When you experience an academic problem when navigating your online course, you should not hesitate to reach your professor for help. All that you need is to email them during their working hours and remember to use a formal language when communicating.