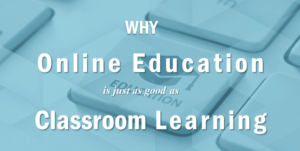 COVID 19 has changed our way of life. Among the most affected group of people is students. College and university students that were about to graduate are feeling the pain. That is not the case for online students. They are still going on with their studies as usual. COVID 19 has proven to the world that online learning is more convenient and accessible than traditional on-campus learning.
Many universities and colleges from all over the world are now encouraging their on-campus students to start attending their online classes. The move has made many students and parents wonder whether online education is as effective as traditional on-campus schooling. Many are wondering whether it can give students the information they need to earn a degree, advance to the next phase of academia, and elevate their careers.
If you are considering completing your course online, we have some good news for you. According to a recent study by MIT, online courses are as effective as traditional courses that require students to be in a lecture hall or physical classroom.
However, as we all know, every coin has two sides. No matter how well online learning may sound, it also has some drawbacks. To help you understand why online education as effective as traditional on-campus schooling, we will be discussing:
1. The growth of online education
2. How people are benefiting from online learning
3. Virtual classes vs. Traditional classes