3. Stay social
Online learning makes it easy for you to focus on your education. Unfortunately, many students end up isolating themselves. They forget to keep in touch with their family members and friends. Isolating yourself to focus on your classes can trigger stress. Spending some time with your friends and family is an easy way to get rid of online education stress. 
4. Exercise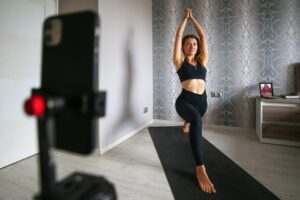 It might not be easy to fit exercise in your busy schedule, but it can help you reduce stress. A regular exercise has got so many benefits starting from reduced risk of diseases to increased focus. You don't have to spend hours exercising. Even a ten minutes walk can help boost your mood and reduce stress. Adding regular exercise in your daily routine will not only help you with your online degree, but it is also good for your body and mind.
5. Get Enough Sleep
Sleep and stress are related. Not having enough sleep can trigger stress. Stress can also cause insomnia or difficulty in sleeping and staying asleep. A good night's sleep will help your focus on your online classes and keep your stress levels manageable. According to the national sleep foundation, adults should sleep for 7 to 9 hours. If you are having sleeping problems, check out tips to sleep better at night.
6. Take a break
Sitting in one position for long when taking an online class isn't good for your body and mind. Every time you start feeling tired and unable to focus or concentrate, you should stand up and stretch your body. You can also consider doing something else such as meeting a friend, exercising, going for a walk, or having a nap before resuming to your classes. Taking a break after every one to two hours will not only help keep your stress levels manageable but also perform better in your exams.
7. Connect with the technical support team within your college or university that support online learning
You don't have to be a computer expert to take an online course. All that you need is basic computer knowledge. When you experience a problem, you don't have to spend hours trying to fix it. Your college or university has a technical support team that is ready to help you. Instead of stressing yourself trying to fix a connection problem, connect with the technical team to get a working solution.
8. Connect with your instructor and fellow classmates regularly
If you are feeling overwhelmed with your online classes, your instructors are there to help you. They will give you all the assistance that you need to be able to complete your online degree. A quick conversation with your instructor about something that is bothering your online course can help keep your stress levels manageable. You can use Skype, Email, FaceTime, call, or any other available means of communication to seek help from your instructors. Many instructors prefer chatting as it allows them to respond to your queries in their free time. Remember to use polite language when communicating with your instructors. 
Knowing and interacting with some of your classmates can also help reduce stress. If you are struggling with your assignment, you can reach out for help from your classmates. The best way to connect with your fellow online students is by actively participating in group projects. You can also connect with on-campus students taking the same course via discussion forums. 
9. Eat well
Science says we are what we eat. For our bodies and mind to perform better, we need a healthy diet. Avoid taking sugary and high-fat foods, they will decrease your energy levels and make it harder for you to concentrate on your class. Healthy fiber foods are the best diet for an online student. They help boost the performance of the body and the mind.